Coriolis sensors or cheaper thermal anemometers - sometimes with chamber head technology - are often used for exact flow measurement of gases. The thermal anemometers essentially offer the performance range of the Coriolis sensors. The decision for a measuring principle depends on the application of details.
Measurement of gas flow in industrial applications
The precise measurement of gas flow is required in many industrial applications. The use of flow sensors / flow sensors with the following objectives has proven itself here:
Energy saving / energy efficiency
Collection of consumption data
Process quality assurance
Ensuring the safety of people and devices
Function monitoring

Suitable technologies for measuring the flow of gases in comparison
Suitable technologies for flow measurement are for these cases
Coriolis sensors
Thermal anemometer
Both measuring principles have advantages and disadvantages:
 
Coriolis sensors
Thermal anemometers
 
 
 
Advantages:

No moving wear parts
High precision

Large measuring range coverage from 0.05 m / s to 220 m / s
High measuring range dynamics> 1: 1000
Low pressure drop
Fast response time
Small dimensions
Cost efficient
No moving parts
Easy assembly
Easy cleaning

Disadvantages:

Expensive
Inline sensors only

Sensitive to dust and water drops (condensation)
Spot measurement

Applications:

Compressed air consumption
Compressed air leakage
Production processes (drying, coating, suction, ...)
Ratio of combustion gases
Biogas
Anemometers work according to the thermal measuring principle.
 

A hot element is held in the airflow
The element heats the air flowing past
The element is cooled down (like a wet finger in the wind)
The heat given off corresponds to the air flow rate
This has many advantages:
Detection of the smallest currents
No moving parts - no wear
Volume flow measurement without any further measured variable
Extreme measuring range limits
Long-term stability
Direction detection
Easy assembly and quick commissioning
Operating modes of the thermal anemometer
Thermal anemometers can follow two operating modes:
CCA = Constant Current Anemometer
CTA = Constant Temperature Anemometer
CTD = Constant Temperature Difference Anemometer. This combines the advantages of the CCA and CTA methods. In this case, a temperature overshoot compared to the environment is conveyed to the sensor and kept at a constant level.
This has the following advantages:
Good resolution with low flow speeds
Can measure high flow rates
Particularly quick response
High operating temperatures achievable

The chamber head
| | |
| --- | --- |
| | The chamber head of our flow sensors extends the use of the anemometer. |
Its advantages:
Pressure-tight up to 16 bar / 40 bar
Applications in pipes up to D = 2 m
High measuring range dynamics (0.2 m/s to 220 m/s >1:1000)
Installation tolerance +/- 3° in flow direction
Bidirectional measurement possible (2 sensors required)
Precise measurement and reproducibility (see calibration certificate)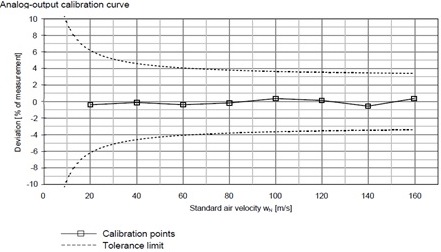 Different gases - is that possible?
By converting to the standard air volume flow, all gases can be measured, but correction factors must be taken into account.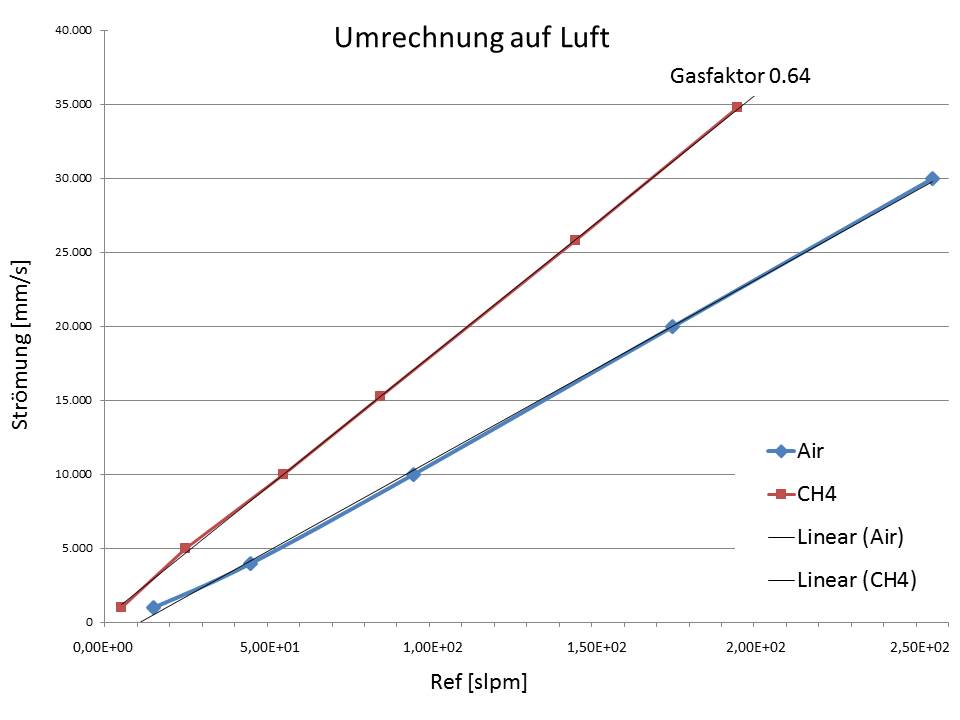 Calibration
| | |
| --- | --- |
| | Calibration takes place in the wind tunnel up to 220 m / s (in the closed reference tunnel). Optionally, a high-precision comparison with a certificate is created. An ISO calibration certificate, traceable to national standards, is also possible. |
Applications
Our flow meters for gases have already been used and tested in numerous industrial processes:
Use in compressed air

Compressed air consumption measurement
Leakage detection
Compressor control
Energy contracting and management

Use in all kinds of industrial processes

Measurement in industrial furnaces and burners
Drying processes
Supply and exhaust air control
Dust extraction
Volume flow control

Use in cleanrooms

Pharmaceutical industry
Food industry
Semiconductor industry

Use for

Laminar flow monitoring
Monitoring of room overflow
Filter monitoring